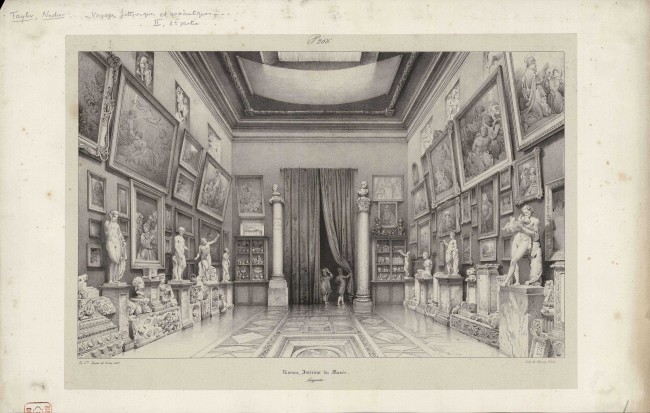 The museum at the Maison Carrée, lithograph by Turpin de Crissé, 1835
Musée Marie-Thérèse, displaying fine art, opened in 1824.
Two severe criticisms of the museum. The first also refers to the collection of antiquities assembled by Perrot, the 'collector of gossip' about the Maison Carrée:
Hermann Ludwig Heinrich, Prince of Pückler-Muskau (1785-1871), Chroniques, lettres et journal de voyage, extraits des papiers d'un défunt. Part I: Europe, Vol. II. Fournier jeune, Paris, 1836.
Nicolas-Gustave Magdelaine (abbot), Voyage aux deux Jérusalem, ou les Cent derniers jours d'un saint prêtre du diocèse de Dijon. Rabutot, Dijon, 1863.
Ville de Nîmes, Carré d'art bibliothèque, 44738
See the scientific note